Take a Tour of Catalina Island Camps: A Summer Camp in California
Take a Tour of Catalina Island Camps Summer Camp in California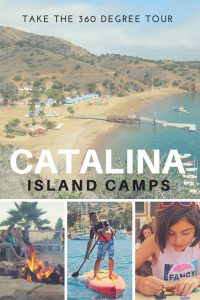 It can be hard to picture your kid away from home at overnight summer camp in California. Catalina Island Camps has made it a lot easier for parents with our virtual tour of our camp located at Howlands Landing on Catalina Island, California. Here's a 360 degree peek at many of the areas your kids will be hanging out at during a typical camp session
Click the link to open a 360 degree view in a new tab:
Catalina Island Camps Girl's Camp  – This is where the girls live. Close to the beach, these bunks have a great view. They are open air style cabins, each with their own front porch. In case of rain they are covered and protected from the elements. Each cabin holds about a dozen people – campers and their counselors. Bathroom and shower facilities are housed in a separate building close by. This summer camp in California is the perfect blend of rustic and comfortable!
Catalina Island Camps Boy's Camp – Boys camp is (surprise!) where the boys live. It's set a little bit away from the girls camp, and inland a bit. There is a large open field in front of boy's camp, that leads down to the waterfront. Boy's camp cabins are closer to the dining area. The cabins themselves are similar to the girl's cabins, open air and designed to house each group in their own cabin. There's a special name for the boy's bathrooms. Be sure you ask your kids about this!
Catalina Island Camps Lower Boy's Camp Field – This is the large grassy area between boys camp and the waterfront, where games are played.
The Catalina Island Camps Center of Camp – The geographic center of our summer camp in California is where you will staff buildings, sports courts and the kitchen and dining area. This is also where we have the camp store. Campers eat on the covered patio. From here you can see the waterfront, boys camp and more.
The Catalina Island Camps Sunshine Pavilion (formerly the Airstream Theater) – This is the stage where campfires, lip syncs and other evening programs are held. Summer camp in California is all about being outdoors and enjoying traditional camp activities. A lot of good times happen here!
The Catalina Island Camps Climbing Wall – This is the area where campers are challenged to climb, under expert guidance from staff. This are can be found farther inland, behind the center of camp. It is not far from the Target Sports and Ropes Course areas
The Catalina Island Camps Waterfront – Everyone's favorite, the waterfront is a hub of activity! Here is where campers start their Tidepool explorations, Kayak and Sailing and Stand Up Paddleboarding sessions, Power Boat Activities, and Skin Diving. Safety is always a priority on the waterfront.
The Catalina Island Camps High Ropes Course and Outdoor Cooking areas – At Catalina Island Camps, camper's challenge themselves on the high ropes courses, facing fears and building confidence. Activities are staggered by age, for safety and campers can look forward to "unlocking" a new skill each summer. At the cooking area, campers learn how to make several favorite camper meals.
The Catalina Island Camps Outback – This is the area of the Catalina Island Camps campus, behind the kitchen. From here you can see the climbing wall and ropes course.
Is it easier to picture your child at summer camp now? We hope you will come and see us and tour the camp in person, along with your camper, at one of our parent's visiting days during our two week and longer sessions!