10 Amazing Ways Kids Benefit from Summer Camp by the Ocean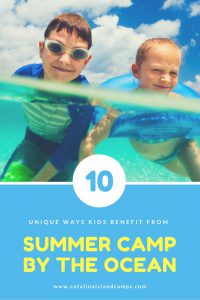 The opportunity to attend summer camp is awesome, but not all summer camps are created equal. Summer camp by the ocean have an edge! Kids can naturally learn so much from attending a camp in an ocean environment, and grow in ways that simply cannot be experienced in a land locked camp. Here are some of the life-long benefits of attending summer camp by the ocean.
Water Safety Skills Acquisition
Learning to swim is an important skill and can be taught in almost any pool. But ocean safety is another skill altogether. Being around the ocean, in a safe and supervised environment with highly trained counselors, helps instill a respect for the ocean. Kids become aware of currents and tides, learn about ocean safety precautions and develop confidence to become safe ocean swimmers for life.
Appreciation of Nature & Ecosystems
Has your son ever held a sea slug? Experienced night-time ocean phosphorescence? Can your daughter identify a harmless leopard shark? Has she watched pods of dolphins at play or observed lazy sea lions sleeping on the offshore rocks? What better way to develop a love for marine life, than to literally dive right in and experience it!
Connection with Time/Tide
The rhythm of time is a familiar one – we watch the sun rise, peak and set, the moon wax and wane. But the ocean and the tides add another dimension to our awareness of ourselves and our place on this planet. Summer camps by the ocean instill an awareness and appreciation for all of the above.
Balance Skills
Stand up paddle boarding and water-skiing are just two of the ocean activities that improve your core, balance and confidence. We could all use a stronger core!
Upper Body Strength & Endurance
Kayaking, skin diving, sailing and swimming improve muscles and cardiovascular health. But you don't need to tell the kids that is what's going on while they are having fun in the ocean.
Teamwork Skills
Group skin diving activities, group paddles to nearby coves and sailing require kids to work together for the benefit of the group. The rewards are large, both in short term shared experiences and long term life skills acquisition.
Courage
Trying something new can be scary, even in a safe environment. Many kids arrive at camp feeling nervous about skin diving and power boat activities on the ocean. But by trying (and usually loving) these safe and supervised activities they are empowered. Discovering you are braver than you realized boosts confidence and is one of the best gifts a kid can take home from summer camp.
Listening Skills
Ocean activities require careful listening and cooperation. Both on the water and off, kids learn to listen to their counselors, the waves, and each other.
Resilience
Ocean activities are never guaranteed to work out exactly the way you'd like them to. When you go skin diving you might not always get to see the underwater flora and fauna you were hoping to see. Those rays might have re-located. Someone in the group might swim slower. The weather might not cooperate. Some amount of frustration is inevitable. But this is also a learning experience. Kids learn resilience when faced with these types of minor and inevitable challenges. They learn to embrace the positive and look forward to the next great experience they will have at camp.
Goal Setting & Personal Growth
Many processes take time, and this is something we can observe underwater and practice above. Just as sea life takes time to grow and change, so do kids. Setting goals for skill acquisition in the ocean and taking the time to learn and grow so you can safely take part in additional activities, are part of the summer camp by the ocean experience. Kids can't wait to come back to the ocean next summer and "level up" and unlock new activities and privileges in their real-life ocean playground.
Summer camp is a wonderful gift and special privilege for your kids. Summer camp by the ocean is even more special. It's a summer your kids will never forget!
Like this post? Check out 5 Reasons Kids will say Thanks for sending them to Summer Camp!